Lampedusa Overcrowded: Over 4,000 Migrants and Refugees Arrived on the Small Italian Island
Island of Lampedusa Seeks Military Assistance as Thousands of Migrants and Refugees Arrive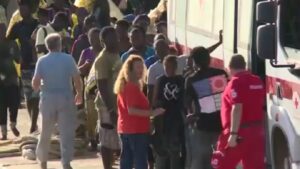 The Italian island of Lampedusa, located south of Sicily, is appealing for military help to accommodate the thousands of migrants and refugees who have arrived in recent days. Presently, there are over 4,000 migrants and refugees on the island, while the reception center is only designed for a few hundred people.
In the past few days, dozens of boats carrying migrants and refugees have landed on Lampedusa. Yesterday alone saw the arrival of 63 boats, carrying a total of over 1,800 people. This morning, more than 500 additional individuals have arrived.
In total, over 4,000 migrants and refugees are stranded on the small island in the Mediterranean Sea. With favorable weather conditions, it is expected that more people will attempt the crossing from Tunisia or Libya today and tomorrow. Lampedusa is unable to cope with the influx. The reception center on the island can only accommodate around 400 people. Ferries are transporting migrants and refugees to Porto Empedocle, on the southern coast of Sicily, but there are not enough departures to facilitate sufficient transfers. The local authorities are requesting that the military deploy ships and aircraft to assist.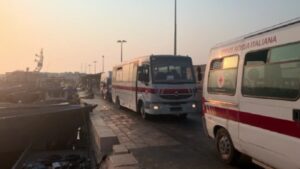 In recent days, hundreds of migrants and refugees have also been rescued by the SOS Méditerranée ship, Ocean Viking, in international waters off the coast of Tunisia and Libya. On Thursday, 272 individuals were rescued, followed by an additional 166 on Friday. They are being transferred to Genoa in northern Italy, the port assigned to them by the Italian government.
Italy is experiencing a high influx of migrants and refugees this year, with the number surpassing 100,000 in recent days. Among them are over 12,000 unaccompanied minors. Despite the far-right government of Prime Minister Giorgia Meloni prioritizing the fight against illegal migration, 2023 appears to be one of the years with the highest arrivals. The government has made it more challenging for NGOs to conduct rescue operations at sea, and they aim to intercept migrants before they make the dangerous journey across the Mediterranean Sea to Italy.
Earlier this summer, Meloni, accompanied by the then Dutch Prime Minister Mark Rutte and European Commission President Ursula von der Leyen, traveled to Tunisia to finalize a migration deal criticized by human rights organizations. Following the Turkish model, Tunisia has committed to halt migrants in exchange for financial support from the EU.
Italy remains the European country receiving the highest number of migrants and refugees. The country has been requesting more support from the EU for years. During a speech in Rimini last night, Italian President Sergio Mattarella called on the EU to allow more legal migration as a means of combating human trafficking.
"Migration phenomena should be addressed for what they are: global movements that cannot be stopped by walls or borders. Only regular and sustainable quotas, which are large enough, can eradicate the cruel human trafficking," Mattarella said at a conference organized by a Catholic association. He also urged the EU to provide "concrete and continuous commitment."