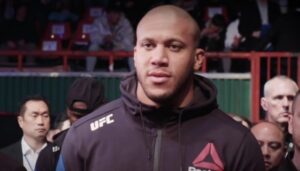 UFC – After the tragedy in Israel, Ciryl Gane speaks out about France. Impossible to…
As his nickname suggests, 'Bon Gamin' is not one to make waves in the media or on social media. However, amidst all the turmoil and tense climate in the world, he has decided to express his thoughts on the Israeli-Palestinian conflict with strong words.
For the past few weeks, MMA fans have been demanding an explanation from Ciryl Gane about his relationship with Fernand Lopez. As a reminder, his coach was convicted of domestic violence against his ex-wife, and it seems like everyone in the industry was aware of it. For some, the fact that 'Bon Gamin' has not denounced these actions indirectly implies his endorsement.
While he may never speak out on the topic, the rising star of French sports has expressed his views on another contentious issue – the conflict between Israel and Palestine. After sharing images of a young girl covered in blood in the arms of her injured mother on Instagram, the UFC heavyweight title contender drew parallels to his own family life and realized how incredibly fortunate he and his loved ones are to have been born in France.
Ciryl Gane: "You're mistaken. Read my message, don't interpret it, because it's for these reasons that public figures refrain from speaking out on social networks, fearing their message will be distorted. I see a child going through a horrific moment, who didn't ask for any of this, and moreover, she resembles my own child. It touches me, and scenes like this should not exist."
"My message defends the cause of humanity. You have blinders on. My message goes beyond Israel/Palestine. My message applies to the Congo, Armenia, and anywhere else in the world where conflicts occur and people die without asking for any of it. It's just a wake-up call reminding me of how fortunate my family and I are. A message to unite and not divide."
Ciryl Gane has sent a universal message of peace that extends far beyond the Israeli-Palestinian conflict. He expresses regret for all collateral victims in the world, especially children, as he inevitably draws parallels to his own youngest daughter. While the world is divided, 'Bon Gamin' has come to realize that France isn't so bad, despite a few security issues.
Ciryl Gane can't do anything other than share his opinions on social media and put everything into perspective. He knows that he and his family have been fortunate to grow up in a country where death isn't lurking around every corner.