Bitcoin Takes a Breather: How Far Could the Correction Extend?
After testing the crucial $35,000 threshold earlier this week, Bitcoin slightly retreated on Thursday, suggesting a healthy pause rather than a significant correction.
The BTC/USD dipped to a low of $33,770 on Thursday and currently hovers around $34,100 this Friday morning. It has experienced a 2.4% decline in 24 hours but is still up by over 18% for the week after reaching a peak of $35,175 earlier.
This correction is observed across most cryptocurrencies and is likely influenced by the better-than-expected US GDP figures released recently. The quarterly growth of 4.9% surpassed the anticipated 4.3%, with the GDP price index at 3.5% compared to the expected 2.5%.
Although these data do not pose a challenge to the Federal Reserve's potential pause at its upcoming meeting next week, they increase the risk of the Fed maintaining its rates at a higher level for a longer period than expected.
Ahead of the FOMC decision, there is a scheduled pre-Fed webinar on Monday, October 30, providing an overview of the markets.
Nevertheless, a high-rate environment is generally viewed as bearish for cryptocurrencies, as seen in their decline in 2022 during a period of rapid monetary tightening by central banks.
Today, another crucial data point to consider for the Fed is the Core PCE Price Index. Similar to the impact of the GDP figures, data exceeding expectations could strengthen the dollar and exert downward pressure on Bitcoin and other cryptocurrencies.
In terms of technical analysis, Bitcoin's trend remains mostly positive. However, the RSI indicator, currently in overbought territory, implies that the correction may intensify further.
If Bitcoin continues to lose ground and falls below $34,000, the next potential support levels to monitor are around $33,000 and $32,000. On the upside, immediate resistance can be found at $35,000 and the recent yearly peak of $35,175.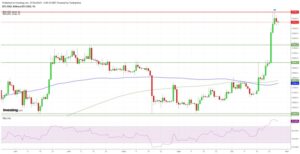 Market observers and crypto enthusiasts are advised to closely monitor these critical levels as the market navigates the impact of macroeconomic indicators and the potential influence of the Federal Reserve's policy decisions. Although the current retracement can cause unease, it also presents an opportunity for investors to reconsider their strategies and position themselves for potential future growth.
As always, prudent risk management and a deep understanding of market dynamics will be crucial in navigating the evolving landscape of the cryptocurrency market.