Little visible before the Russian invasion of Ukraine, the wife of President Volodymyr Zelensky multiplies official trips abroad, sometimes in place of her husband.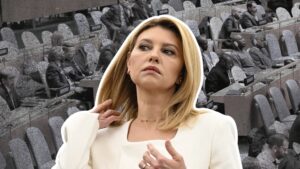 Ukrainian First Lady Olena Zelenska is increasingly involved in promoting Ukrainian interests on the international stage. (AFP)
She was his friend, his screenwriter, then his wife. She is now his shock diplomat. Faced with the invasion of her country by Russia, Olena Zelenska has carved out a tailor-made role to support her husband, Ukrainian President Volodymyr Zelensky. Almost invisible in the early hours of the war, the 44-year-old First Lady moved from isolation to official encounters. Folders under her arm, she now walks around airports, trade fairs and conferences around the world, while the president remains as close as possible to the front. Last trip to date: Paris, where the conferences for the reconstruction of Ukraine are organized on Tuesday, December 13 at the initiative of Emmanuel Macron.
Without status or political mandate, Olena Zelenska has chained interviews with heads of state in recent months, given several speeches to foreign parliamentarians, while appearing regularly at conferences and award ceremonies. All broadcast almost live on social networks, where it has several million subscribers. As the conflict drags on as winter approaches, the goal of the "First Lady of Ukraine" (her pseudonym on Telegram messaging) is clearer than ever: to secure international aid at all costs for his country, whether humanitarian or military.
The "Target No. 2 of the Russian army"
Prior to the Russian invasion of Ukraine on February 24, she willingly remained in her husband's shadow. A sharing of roles that dates back to the time when Volodymyr Zelensky, an actor by trade, could count on his companion to write and co-produce his sketches and television series. "She was put on the front of the stage in spite of herself", explains to franceinfo Valentyna Dymytrova, lecturer in Information and Communication Sciences at Lyon 3 University. "At the start of Zelensky's mandate [elected in 2019], she wasn't communicating much and she was blamed for it." But the war disrupted the public life of Olena Zelenska.
From the first Russian bombardments, she left the presidential palace in a hurry. "No one shared military secrets with me, I thought war was not going to break out. I didn't even have my passport," she told the Guardian (in English). Despite invitations from neighboring countries, the Zelensky family remains in the country, but separated. The First Lady is moved from hideout to hideout with her 9-year-old son Kyrylo and 18-year-old daughter Oleksandra. Designated "Target No. 2 of the Russian army", according to kyiv, she gave almost no sign of life for ten weeks.
"This silence was not very well perceived by the Ukrainians. Rumors said that the president had evacuated his family abroad", recalls Valentyna Dymytrova. At the beginning of May, Olena Zelenska signs a "surprising" return to the public scene, alongside Jill Biden, the American First Lady, visiting Ukraine. The "diplomatic character" of Olena Zelenska is being built, the fruit of an "elaborate, thoughtful strategy, and of which we perceive traces even before the invasion".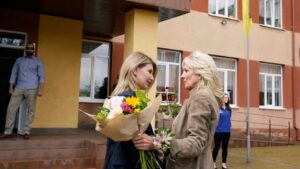 US President's wife Jill Biden (left) and Ukrainian First Lady Olena Zelenska in Uzhhorod (Ukraine) on May 5, 2022. (AFP)
President Zelensky's wife did not really wait for the conflict to dust off her role. The previous year, in August 2021, she had launched her "summit of First Ladies and Gentlemen" in Kiev, during which she had given two lectures on soft power and the ability of spouses of heads of state to influence affairs. of the world. The opportunity also to defend the idea of an official representation with a formal and organized office, like that of the First Lady in the United States. First lady whom she also met on May 5, 2021, in the person of Jill Biden, during a visit to Ukraine.
May 2022 also saw Olena Zelenska's breakthrough into the digital sphere. On Instagram, she is followed by 3.1 million people, which places her ahead of President Emmanuel Macron (3 million subscribers). More than 50,000 people follow his actions on his Telegram channel, opened a few days after the Russian invasion and described as a "resistance information headquarters".
A First Lady looking abroad
If President Zelensky has not left Ukrainian territory since the attack on Russia, his wife has made around ten official trips to Europe and the United States in particular. In July, she was received in Washington by US Secretary of State Antony Blinken, who promised her increased humanitarian aid to the Ukrainian people. With a particular interest in mental health, the great cause defended by Olena Zelenska. His international tour continues with notable appearances. In Strasbourg, she was given a standing ovation by the European Parliament on September 14. In New York, she is seen to the right of Ukrainian Foreign Minister Dmytro Kuleba at the UN General Assembly on September 21. Travels to Germany, Poland, Turkey, Portugal and the United Kingdom followed. Each time, she meets First Ladies, often she talks with heads of state.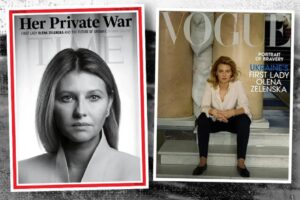 Ukrainian First Lady Olena Zelenska on the cover of "Time" magazine (left) and "Vogue" (right). (VOGUE/TIME MAGAZINE)
"At the same time, she gives a lot of interviews to Western media, notes Valentyna Dymytrova. Much more than to Ukrainian media for that matter." She appeared on the cover of the American magazine Time in July, then in Vogue in October. In the famous red box, she wears a resolute air. In the fashion title, we see her sitting on a staircase, elbows resting on her knees, looking tired but determined. The two covers earned him a torrent of criticism, both for a supposed "glamorization" of the war and for a posture deemed too "masculine". On social media, hundreds of people are defending her by sporting a similar pose under the hashtag #SitLikeAGirl ("sit like a girl"). In the interviews that follow these first pages, Olena Zelenska claims to focus on her personal struggles: the cause of women in wartime, moral and psychological support for Ukrainians. When her husband takes care of political and military affairs.
However, this line drawn within the Zelensky couple sometimes fades. On July 20, facing the American Congress, Olena Zelenska abandoned the humanitarian register to "ask for weapons" and more particularly "anti-aircraft defense systems". Later, in Turkey, she obtains the shipment of medical equipment, but also inaugurates a military ship intended for the Ukrainian Navy, relates the Turkish press agency DHA (in Turkish). Then, in November, she urged British parliamentarians to support the creation of a special tribunal for war crimes in Ukraine. A mix of genres that Olena Zelenska assumes, and which seems to be successful for her. "His political message is better heard, because it comes from the mouth of a First Lady and we are not used to that", analyzes Valentyna Dymytrova.
A "score written for her"
Olena Zelenska reaches a wide audience and breaks free from certain rules. "She is not a diplomat in the strict sense of the term, but she still plays a very important diplomatic role", underlines Loé Lagrange, former First Secretary of the French Embassy in Ukraine. "In recent months, her presence has been systematic and it seems that a score has been written for her, in addition to the Ukrainian ministers. It's quite exceptional."
For the French diplomat, therefore, no competition between the First Lady and the Ukrainian government, but a "well-calculated" distribution of tasks. "Minister Kuleba appears in very formal meetings with his counterparts, where Olena Zelenska continues to work on her favorite pre-war subjects, which she has adapted to the current context", explains Loe Lagrange.
"By adding a new face to Ukrainian diplomacy, we avoid the weariness, the breathlessness of the media and of Ukraine's international partners."
"We must not forget that the Zelensky couple are experts in terms of media and communication, recalls the diplomat. This war is prolonged and the issue of maintaining aid is crucial, especially for military support." In recent months, "to act more effectively" she assures, Olena Zelenska has created her own humanitarian foundation. But we should "not see this as an abandonment of other fights", warns Loe Lagrange. "What is interesting is that she is not confined neither to humanitarian work, nor to her appearance, nor to a gendered role", notes the specialist. As "the women who help the men at the front" Olena Zelenska "acts at the diplomatic level and is part of this Ukrainian society which is fully involved in the war effort".