LIGUE 1 – It wasn't their best game of the season, but RC Lens still managed to take the three points. Driven by a packed Bollaert-Delelis stadium, the Sang et Or overcame Montpellier on Saturday evening (1-0) thanks to a goal from Wesley Saïd. A narrow and sluggish success, but which allows the Artésiens to temporarily take 3rd place in the ranking in Marseille.
Lens resumed its march forward. This Saturday evening, the Sang et Or, who remained on a setback in Lille (1-0), disposed of Montpellier, on the smallest of marks (1-0), during the eleventh day of Ligue 1. In a Bollaert-Delelis stadium full, Wesley Said made all his supporters happy (67th). In the classification of the French championship, the Lensois temporarily climb on the podium, in third place, while the Heraultais remain tenth.
He had certainly not lost many balls before this famous 67th minute of play. At that time, surrounded by several opponents in front of his own penalty area, Teji Savanier stored his ball back. Instead of finding a partner, the Montpellier captain saw Wesley Saïd, who came into play just seven short minutes earlier, emerge to score with a right-footed shot (1-0). And it was obviously this very big mistake to unlock a particularly closed meeting. But therefore advantage to Lens who, beyond the scoreboard in his favor, confiscated the ball (68% possession).
Lens pushed late in the game to break
Previously, only Lois Openda had also solicited Jonas Omlin, who won their duel, after coming out perfectly well to meet him (35th). At the very end of the match, when we could legitimately expect a reaction from Montpellier, it was rather Lens who pushed to try to make the break. Also entering the game, David Pereira Da Costa was dangerous on many occasions (78th, 90th, 90th+5), but Omlin proved impassable, just like against Florian Sotoca, despite a backheel inspired by him. here (89th).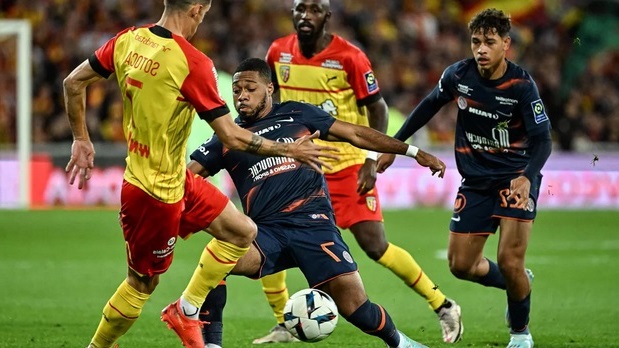 At the break, Montpellier certainly thought they had done the hardest part, having notably taken over in midfield. Lens could not find the solution in the heart of the game, with a lot of technical waste and the Sang et Or even seemed to be struggling physically. Montpellier's solidity, with a block well in place, was visible, but in front, the Hérault attackers failed to take advantage of it. Only Stephy Mavididi requested Brice Samba, on a shot from the right that was far too crushed (40th).
Finally, Montpellier falls again. For the seventh time this season, the third in a row. Olivier Dall'Oglio's proteges will have to react next Saturday (5 p.m.), against Lyon. Lens, who have won all six of their home matches, have 24 points after eleven Ligue 1 games in 2022-23 and equal their highest tally at this stage in their history in the top flight. With 2001-02, the season in which the club finished second. To maintain this good momentum, the men of Franck Haise will have a lot to do, from Saturday (9 p.m.), on the lawn of Marseille.