According to the NGO Iran Human Rights, an 18-year-old demonstrator was sentenced to death for setting fire to a traffic police kiosk in the town of Nowshahr.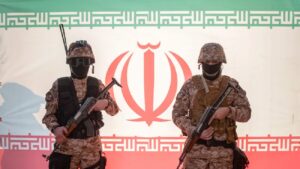 Two Islamic Revolutionary Guards pose in front of an Iranian flag on December 29, 2022, in Tehran. (AFP)
Two Iranians under the age of 20 are at risk of being executed in their country after being sentenced to death for their involvement in recent protests in Iran, alarmed on Monday January 2 Iran Human Rights (IHR), an NGO based in Oslo. Iran is rocked by a protest movement sparked by the September 16 death of Mahsa Amini, a 22-year-old Iranian Kurd, who died after her arrest by vice squad for violating the Islamic Republic's strict dress code.
The authorities, who denounce "riots" orchestrated by foreign countries and opposition groups, have arrested thousands of people, among whom 11 have already been sentenced to death. Two men have already been hanged, after being found guilty of killing or injuring members of the security forces or paramilitaries in the protests.
"Enemy of God"
For his part, Mehdi Mohammadifard, an 18-year-old protester, was sentenced to death for setting fire to a traffic police kiosk in the town of Nowshahr (in the west of the country), according to the NGO HRI. A revolutionary tribunal found him guilty of "corruption on earth" and of being an "enemy of God", according to him. The double accusation earned him the death sentence twice.
At the same time, the judiciary agency Mizan Online announced that the justice had confirmed the death sentence of Mohammad Boroghani, another man involved in the protests. According to Mizan Online, he had "wounded a security guard with a knife with the intention of killing him", "sowed terror among the citizens", and "burnt down the governorate headquarters of the city of Pakdasht" located in the south -east of Tehran. According to IHR, this convict is 19 years old.