The new president notably suspended for two months new registrations of weapons and ammunition for hunters, collectors and sport shooters.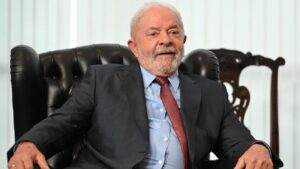 The new president Lula, on January 2, 2023, in Brasilia. (AFP)
Just invested, the new left-wing president of Brazil, Lula, signed decrees on Monday, January 2, to limit the use of weapons and to strengthen the protection of the Amazon. With these first decisions, he thus took the opposite view of the government of his far-right predecessor Jair Bolsonaro. Within 24 hours of his inauguration ceremony in the Brazilian capital, the 77-year-old left-wing icon began to deliver on his key campaign promises.
Through a decree published Monday in the official journal, Lula suspended for two months new registrations of weapons and ammunition for hunters, collectors and sport shooters (grouped under the acronym CAC). This category has seen its arsenal triple under Bolsonaro's four years in office, to reach one million registered weapons. It also limited the possibility of purchasing weapons and ammunition for certain authorized uses and suspended the granting of new licenses for CACs and new registrations for shooting clubs and schools.
End of mining in some areas
The new head of state also signed a series of decrees aimed at strengthening the protection of the Amazon, whose average annual deforestation has increased by 75% compared to the previous decade. Lula notably instituted a "permanent interministerial commission for the prevention and control of deforestation", while deciding to reactivate the Fund for the Amazon, created in 2008 to collect donations intended for investments in the forest with a view to its preservation.
The Amazon Fund had been frozen since 2019 due to differences over the destination of the funds between Norway and Germany, the main donors, and the Bolsonaro government. These two countries have expressed their intention to top it up again. Lula also revoked a decree authorizing mining in indigenous areas and environmentally protected areas.
After the signing of these decrees, the Brazilian president will travel to the city of Santos on Tuesday morning to pay a last tribute to legendary footballer Pele, who died Thursday at the age of 82, the presidency announced. A wake began Monday at 10 a.m. at the Santos FC club where Pele wrote much of his legend. Open to the public for 24 hours without interruption, it will end on Tuesday shortly after the passage of Lula.