The cultural capital of Pakistan has been immersed for several weeks in a thick toxic fog of gas and particles. School holidays have been extended and businesses must close before 10 p.m.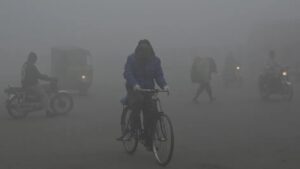 Among the important factors at the origin of smog, agricultural burnt and industrial pollution. (AFP)
Lahore, the cultural capital of Pakistan, has been immersed in smog for several weeks, a cloud of pollution, a threat to public health. School holidays are extended and schools will remain closed until January 9, the authorities have decided accordingly. Restaurants and businesses have been ordered not to open after 10 p.m.
In Lahore, the air quality index is rated at 230 on average, which is considered very bad for health. In some streets of the city, the air quality index is 522, which is considered dangerous for health. On the spot, the inhabitants testify to burns in the chest, the eyes start to sting, breathing is difficult. Visually, it is as if the city is shrouded in thick fog and very poor visibility: the highway is almost daily closed in the early morning and early evening, during the coldest hours of the day. This is indeed when the smog, a toxic mixture of gases and particles, is the most important.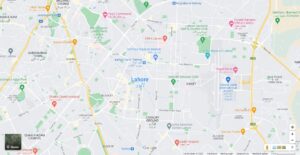 Every winter the same scenario repeats itself: hospitals see the number of patients with breathing difficulties increase considerably. It is difficult to have physical figures, as an emergency doctor explained to us, there is no study that has yet been carried out to date to know the impact of pollution on health in the city of Lahore, one of the most polluted in the world.
At the origin of pollution, agricultural burning and industrial pollution
Lahore is the second largest city in terms of population in Pakistan: eleven million inhabitants, almost as many as in Belgium. It is a major industrial and agricultural agglomeration. Agricultural burning and industrial pollution are important factors causing smog.
But the transport sector, car pollution alone would be responsible for more than 40% of air pollution in Lahore, but also in all of Pakistan. Moreover, some environmental organizations and environmental activists are trying to mobilize and raise awareness among the population by promoting travel by public transport and by bicycle, but these initiatives remain exceptions.
What are the efforts of the authorities? Initially closed until January 9, schools are now closed three days a week: polluting factories are called to order. But on the ground, many of them continue to pollute, on the roads the traffic is intense. Some Alam, environmental specialist denounce the irresponsibility of the authorities and the absence of strict measures on their part. Manufacturers are not encouraged to turn to renewable energies, or at least to cleaner fuels. No policy is put in place in this direction to the great despair of many environmental activists.