Gabon is 90% forest. Hundreds of men watch and protect her. While the animals are victims of poaching, the trees are threatened by timber traffickers.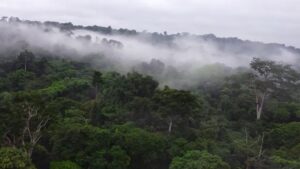 The Central African forest absorbs millions of tons of CO2 and is home to thousands of animal species. It is the second largest forest in the world after the Amazon. Among the countries it covers, there is Gabon. Men learned there to protect and live with the forest, which constitutes 90% of the country. That morning, Saturnin wakes up in the middle of the forest. Passionate, he regularly sleeps at the top of a watchtower to observe wild animals. Like forest elephants, a rare species that is a victim of poaching and deforestation. They live almost exclusively in Gabon. The country has become a sanctuary for dozens of endangered species.
Rangers on permanent watch
"It's really a paradise for animals because they find everything here. You have grass, you have mineral salts, you have flowing water", explains the man. Then he leaves his perch for a hike in the forest, in one of the thirteen national parks of Gabon. As the area is protected, no one can go there alone. It is mandatory to be with forest rangers. There are hundreds of them constantly monitoring the animals, but also the visitors.