Vladimir Putin criticized "the destructive line adopted by the kyiv regime, which has bet on intensifying the fighting".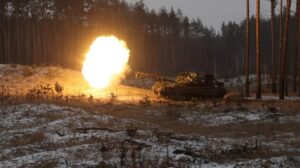 A Ukrainian tank in the Luhansk region, January 12, 2023. (AFP)
---
Russia denounces European aid. While NATO promised that Ukraine would receive even more heavy weapons in "the near future", Vladimir Putin criticized, in a conversation with his Turkish counterpart Recep Tayyip Erdogan, "the destructive line adopted by the regime of kyiv, which has bet on the intensification of the fighting, with the support of its Western sponsors who are increasing their deliveries of arms and military equipment". "These tanks are burning and will burn," Kremlin spokesman Dmitri Peskov said earlier. Follow our live.
The toll at Dnipro is getting heavier. Almost 48 hours after the bombardment of a residential building, 40 dead bodies were found, according to the emergency services, and 77 injured were counted. Around 40 people were rescued from the ruins of the building. Ukrainian President Volodymyr Zelensky promised that "everyone guilty of this war crime would be identified and brought to justice".
The Kremlin denies any involvement. Moscow took two days to react to the strike on the Dnipro building. "The Russian armed forces are not bombing residential buildings or civilian infrastructure, they are bombing military targets," Kremlin spokesman Dmitry Peskov said, despite strikes that have already hit scores of civilian targets since then. the beginning of the invasion, on February 24.
An American official visiting kyiv. US Assistant Secretary of State Wendy Sherman traveled to Kyiv on Monday where she met with Volodymyr Zelensky. She assured him of Washington's "strong and unwavering commitment" to Ukraine. In particular, she met the Ukrainian Minister of Defense to discuss the aid to be provided.