"The goal is to build this platform quickly with the participation of Ukraine, international financial institutions and other partners," German Chancellor Olaf Scholz announced Monday at a press conference in Berlin.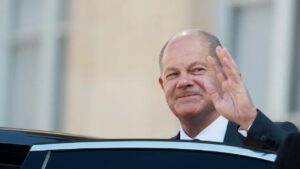 German Chancellor Olaf Scholtz at the Elysee Palace in Paris on September 6, 2021. (NURPHOTO / AFP)
The leaders of the G7 have decided to set up a "platform" responsible for "coordinating financial aid" to Ukraine. Meeting in a virtual summit on Monday, December 12, the leaders of the G7 (United States, Germany, Canada, France, Great Britain, Japan and Italy) spoke about aid to Kiev, before holding a new conference on emergency aid and long-term reconstruction of the country, scheduled for Tuesday in Paris.
"The objective is to quickly build this platform with the participation of Ukraine, international financial institutions and other partners", explained German Chancellor Olaf Scholz, comparing the reconstruction of Ukraine to the Marshall plan put in place by the United States to rebuild Europe after the Second World War.
"We are convinced that it was our unity, our determination, which isolated the Russian President and we again call on Mr. Putin to stop the senseless killings in Ukraine and withdraw his troops," he said, at a press conference in Berlin.
Zelensky proposes a "world peace summit"
Ukrainian President Volodymyr Zelensky on Monday proposed to the G7 countries a "world peace summit" on Ukraine, after nearly ten months of Russian invasion of his country. The purpose of this special summit: "to decide how and when we can implement the points of the Ukrainian peace formula", he explained in a videoconference speech, calling on Russia to "withdraw its troops from Ukraine before Christmas to "ensure a lasting cessation of hostilities".
On Sunday, the Ukrainian president spoke in turn with his American and French counterparts, Joe Biden and Emmanuel Macron, to prepare for this G7 meeting, as well as the Paris conference. According to the Elysée, "heads of state, heads of government, ministers" from 47 countries, as well as United Nations Secretary General Antonio Guterres, will participate in this international meeting on Tuesday.
These summits come as Russian forces target basic public service infrastructure, causing, among other things, power cuts affecting millions of people in the middle of winter.