Turkish Police Disperse Pro-Palestinian Protesters with Tear Gas at Air Base
Turkish police fired tear gas to disperse a pro-Palestinian rally outside the Incirlik Air Base in southeastern Turkey on Sunday. The protest, organised by the IHH humanitarian relief fund, took place just hours before the arrival of US Secretary of State Antony Blinken in Ankara. The crowd began to walk towards the base after holding a peaceful rally in Incirlik, prompting intervention by the police. Images on social media showed hundreds of people waving Palestinian flags running across a field and being chased by the police who also used water cannons. No injuries or arrests were reported, and US officials have made no comment.
Incirlik Air Base, located on the Mediterranean coast, is owned by Turkey but used by the US Air Force and occasionally Britain's Royal Air Force, providing strategic access to large parts of the Middle East. The IHH protest coincided with Blinken's visit to Ankara, where he is scheduled to meet Turkish Foreign Minister Hakan Fidan on Monday. In addition to the protest at the Incirlik Air Base, nearly 1,000 people rallied outside the US embassy in Ankara.
In Marseille, France, thousands of people marched in support of the Palestinians and called for a ceasefire in Gaza. The protest, attended by 2,700 people according to French police, was organised by a group of associations, parties, and trade unions. Demonstrators waved Palestinian flags as they marched through the city.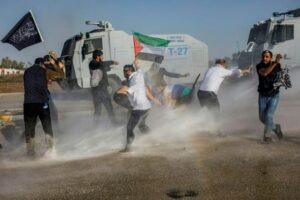 NATO member Turkey has seen weeks of protests since the start of the conflict between Israel and Hamas last month. The IHH humanitarian relief fund, which organised the protest at the Incirlik Air Base, also attempted to break Israel's siege of Gaza in 2010. Turkish President Recep Tayyip Erdogan initially defended Israel's right to fight against Hamas but has since taken a harsher stance as the civilian death toll rises. Erdogan has accused the United States of supporting a "genocide" and led a massive rally in Istanbul last month.
In response to the conflict, Turkey announced on Saturday that it was recalling its ambassador to Israel for consultations and breaking off contacts with Israeli Prime Minister Benjamin Netanyahu, whom Erdogan holds personally responsible for the civilian toll. Israel and Turkey had been working to mend relations, which ruptured after the 2010 IHH attempt to break the Gaza Strip's blockade. They had reappointed ambassadors last year and were discussing a US-backed natural gas pipeline that could have facilitated stronger ties.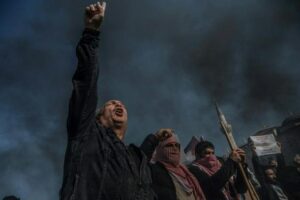 While Blinken is visiting Turkey for the first time since the start of the Israel-Hamas war, it is unlikely that he will meet with Erdogan, as the Turkish leader will be touring the country's remote northeast. Erdogan stated that Turkey is working behind the scenes to stop the bloodshed in Gaza and ensure the delivery of humanitarian aid, emphasizing that it is Turkey's duty to do so. Turkish Foreign Minister Hakan Fidan spoke with his Egyptian and Jordanian counterparts by phone on Sunday, according to a Turkish diplomatic source.