More than one and a half million people, who hoped to get a ticket, logged on to the site. Meeting with Lionel Messi fans who were able to obtain the precious sesame.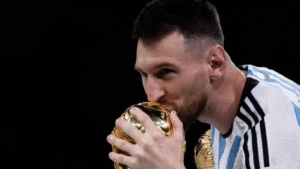 Lionel Messi kissing the World Cup trophy in Qatar on December 18, 2022. (PEDRO MARTINS / AGIF)
The return of Messi. On Thursday March 23, the Argentine football team will play a match against Panama in Buenos Aires. The world champions, who had not returned to the




Argentine capital since their historic triumphal arrival after their victory in Qatar against the France team, are awaited by an entire people.
And one thing is clear: three months later, the madness of the World Cup which had dissipated came back in force. The proof is in the fever that gripped the ticket office for this friendly match at the Monumental stadium in Buenos Aires. The approximately 63,000 entries sold out in less than two hours. The Argentine Football Federation, which has also planned festivities to celebrate Albiceleste's world title against the Blues, said it had received more than 130,000 media accreditation requests, while the press gallery cannot accommodate only 344 journalists.
There were more than one and a half million people in line at the site. Among them: Daniela, 37, who was unable to buy tickets. "I logged in five minutes before the sale time and the page automatically sent me a number in the queue, she says. When I saw it, I knew I didn't. 'had no chance' of getting a ticket, 'since I was number one million and something,' she adds. And to add a little bitterly: "My illusion disappeared at this precise moment".
"We were all around the laptop"
The most organized were able to get an entry. This is the case of Patricio, 16 years old. With his family, they connected ten devices, computers, tablets, laptops two hours before. His phone had the number 9000 and the 1.5 hour wait was tough. "We were all around the laptop, making sure it had battery power, that it didn't turn off, he told. We were anxious and very nervous. entered the site, I quickly bought the maximum four places authorized by the device. And there, it was a feeling of relief and happiness because we knew we were going to see Lionel Messi! The hundreds of thousands of ticketless supporters are now expected on Thursday March 23 around the River Plate stadium.
As for the Argentine genius, who traveled with his wife and their three children, is obviously at the heart of all attention since his arrival, Monday, March 20, in the capital. If Lionel Messi joined the Albiceleste training camp in Ezeiza, on the outskirts of Buenos Aires, his dinner, which was intended to be discreet in the Palermo district, gave rise to an unusual spectacle: hundreds of fans sang and chanted his name outside a restaurant.