"Deadliest Shelling since Spring"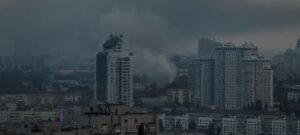 The military administration has reported that Kyiv experienced the most extensive rocket
The military administration is calling it the "deadliest rocket and drone shelling since Spring" in Kyiv: resulting in two deaths overnight. According to Russia, they repelled several Ukrainian drone attacks, including in Moscow.
Early in the morning, Kyiv Mayor Vitali Klitschko reported through his Telegram channel that explosions could be heard in the capital. He urged residents to stay in shelters. About two hours later, he stated that at least two people were killed in Russian airstrikes on Kyiv.
The head of the military administration in the capital, Serhij Popko, confirmed the death toll. They died from falling debris. Two more people were injured, including from glass shards.
Air raid throughout the country
According to reports, intense explosions of anti-aircraft missiles occurred over the city throughout the night in response to approaching cruise missiles. In at least two districts, rocket debris fell on buildings, as Klitschko mentioned. Several fires broke out, including in an administrative building and a commercial establishment.
According to the military administration, more than 20 rockets and drones were "destroyed by air defense forces" during the night. This is said to be the "deadliest rocket and drone shelling since Spring."
According to Ukrainian reports, the wave of cruise missiles from the Caspian Sea region was preceded by a drone attack from the north. The air raid was followed by a nationwide air alarm. Reports of incoming rockets were also received from the southern Ukrainian region of Odessa.
Russia reports attack on airbase
Russia also reported new attacks. According to authorities, several heavy military transport planes were damaged in a drone attack on the airbase in the northwestern Russian city of Pskov. The governor of Pskov region, Mikhail Vedernikov, wrote on his Telegram channel early in the morning that the army had repelled a drone attack.
He published a short video showing an explosion and fires above the airbase. "As a result of the drone attack, four Il-76 aircraft were damaged. A fire broke out, engulfing two of the planes," said a representative of the state Russian news agency Tass. The information cannot be independently verified.
Pskov is located about 660 kilometers north of the Ukrainian border, near the borders of Latvia and Estonia. The airport is set to remain closed to civilian aviation on Wednesday.
Possible drone alert in Moscow
According to their own statements, Russia repelled numerous Ukrainian drone attacks during the night, including in the Moscow region, Brjansk, and Oryol, as well as in the bay of Sevastopol in Crimea.
In the Black Sea, a Russian Black Sea Fleet aircraft reportedly destroyed four Ukrainian military speedboats. The Russian Ministry of Defense stated that up to 50 members of Ukrainian special forces were on board. These claims cannot be independently verified. There has been no confirmation from the Ukrainian side so far.