The Atlas Lions intend to extend their dream of victory against the Blues, Wednesday, December 14. Since Saturday and their historic qualification, a whole country wants to believe in it.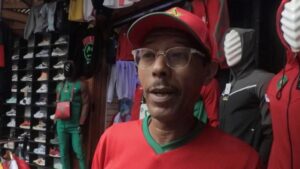 In the Casablanca souk, flags, jerseys, hats in the colors of the national team are in good place. "I can't not buy it," says a supporter, who came to buy a jersey for the match on Wednesday, December 14. Rising sales and contagious jubilation are doing Morocco good after three years of economic slump. "It made me forget the inflation, the crises, the dramas that happened in the world," says Aboubacar, a seller at the Casablanca souk.
A dream poster
In the center of the city, the inhabitants proudly display their colors. The journey of their team commands respect and capsizes hearts. "I'm French, so I'm for France, but at the same time it's true that it's such a great performance… In fact, we would like the best to win". 48 hours before kick-off, a Moroccan family talks only about the game. In Rabat (Morocco), children imitate their idols while waiting for the match of their dreams.