The sinking of the "HTMS Sukhothai", a Thai Navy corvette, occurred overnight from Sunday to Monday. The search for survivors is still ongoing on Tuesday.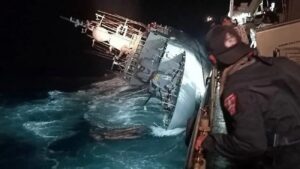 The "HTMS Sukhothai", a Thai Navy corvette, which sank on the night of December 18 to 19, 2022, off the coast of the country. (AFP)
Two days after the sinking of a Thai navy ship, five lifeless bodies were recovered on Tuesday, December 20, during a major operation launched in the Gulf of Thailand. To date, 24 sailors are still missing. Of the 105 crew members of HTMS Sukhothai, 76 have been rescued, according to the latest official count, and the Royal Thai Navy has confirmed the death of five people.
"This is one of the worst tragedies that has happened to the Royal Thai Navy," Admiral Chonlathis Navanugraha said, stressing that it was "caused by natural conditions".
Earlier in the day, the Navy confirmed that a sailor had been rescued in "good health". "This is good news, which shows that we can find more people," said Navy Commander Pichai Lorchusakul.
Searches have intensified to locate survivors of the sinking of the HTMS Sukhothai. Four warships, two Dornier maritime patrol aircraft and four helicopters were deployed on Tuesday. The search area extends over a square of approximately 50 kilometers per side, covering the provinces of Prachuap Khiri Khan and Chumphon.