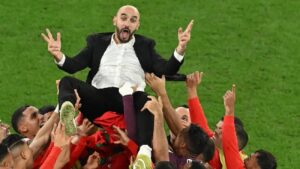 This Wednesday, December 14 at 8 p.m., the Moroccan team will try to achieve a feat. That of qualifying for the first time in the final of the Football World Cup, against the defending champion: France. Since the start of this World Cup in Qatar, the "Atlas Lions" have entered the history of their sport. The 26 Moroccan footballers are the first Africans to qualify for a World Cup semi-final. Already in 1986, they were the first players from the continent to qualify for the 8th.
A feat, not a miracle
This place in the final square is no coincidence. Some Moroccan players have been trained at the Royal Football Academy, the new Moroccan Clairefontaine. This training center was created 12 years ago by King Mohamed VI in order to bring Morocco into the big leagues of football.
Another strong point: most of the footballers who make up the Moroccan selection are binational. They were born in Belgium, the Netherlands, Spain or France and trained in the biggest European clubs. They are currently playing at Bayern Munich, Chelsea or PSG for right-back Achraf Hakimi, a close friend of Kylian Mbappe. More than a quarter of them also play or have played in a French club, such as Angevin Sofiane Boufal, which his club now fears losing from the next winter transfer window. Their captain, Romain Saiss, is a Provençal born in a small town in Drome. He could face the country of his childhood tonight if his left thigh injury leaves him in peace.
Many injuries in the team
But no worries for the coach. Walid Regragui is also a Franco-Moroccan born in Corbeil-Essonnes, having played in small teams with universal values. He advocates hard work and demands rather than luck and chance. A coach who advances methodically, studies his opponents and adapts to them. He is also aware of having a historic opportunity to beat the world champions. Do not be satisfied with the semis, he said, aim for the final victory of the "Atlas Lions", collectively driven by a fierce desire to put Africa on the roof of the world.