Striking Actors Reach Agreement with Hollywood Studios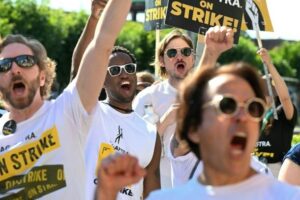 Hollywood actors and studios have reached a tentative deal to end a months-long strike
Los Angeles (AFP) – In a significant development for the entertainment industry, Hollywood actors and studios have tentatively agreed to end a prolonged strike that has had severe consequences, including delays in popular shows and films, and a substantial economic cost to the United States.
On Wednesday, the Screen Actors Guild (SAG-AFTRA) called off their 118-day strike starting from midnight (0800 GMT Thursday) after finally reaching an agreement with major players such as Disney and Netflix. The new contract includes provisions for higher pay and safeguards against the use of artificial intelligence.
This announcement marks a positive step forward, as actors can now resume their work on movie sets, picket lines outside studios can disband, and numerous jobs linked to the entertainment industry can be restored.
According to a statement by a spokeswoman for SAG-AFTRA, the deal was approved unanimously by the SAG-AFTRA TV/Theatrical Committee, effectively bringing an end to the prolonged strike, which has lasted over 100 days.
Negotiators, in a message to union members, stated that the contract is valued at over $1 billion and will provide members with the opportunity to build sustainable careers.
The Alliance of Motion Picture and Television Producers, representing the studios, expressed their satisfaction with reaching an agreement and highlighted the introduction of a "brand new residual for streaming programs" without providing specific details. Residuals refer to long-term payments received by shows after their initial release.
The deal will still need to be ratified by the union's board and members, a process that may take several weeks, but the agreement is widely expected to be approved.
In recent weeks, negotiations between the two sides have taken place nearly daily, often attended by the CEOs of major studios such as Disney, Netflix, Warner, and Universal. The urgency for a resolution intensified as the strike's impact became more apparent.
Due to the duration of the strike, studios now face significant gaps in their release schedules for the upcoming years. Many actors who have been out of work have also faced financial challenges, resorting to seeking alternate employment or leaving the profession altogether.
The news of the agreement has swiftly spread across Hollywood, with celebrities expressing relief and joy at the resolution.
Zac Efron, speaking at the premiere of "The Iron Claw," exclaimed, "Incredible! I'm so happy we were all able to come to an agreement. Let's get back to work! Let's go! I'm so stoked."
Oscar winner Jamie Lee Curtis shared her excitement on Instagram, writing, "PERSEVERANCE PAYS OFF!"
Representing around 160,000 performers, SAG-AFTRA consists not only of elite stars earning millions but also lesser-known actors who have found it increasingly challenging to make a decent living in recent years. Outdated pay structures and a failure to adapt to inflation and industry changes have contributed to these difficulties.
When SAG-AFTRA initiated their strike in mid-July, Hollywood writers were simultaneously on strike. However, the writers have since resolved their contract dispute.
This simultaneous strike by the two unions has not been witnessed since 1960 when actor (and future US president) Ronald Reagan led the protests.
Economists estimate that the industry-wide strike has so far cost at least $6 billion, predominantly in lost wages.
With major film releases such as "Dune: Part Two" and the next "Mission: Impossible" installment already pushed back, studios now face the challenge of resuming production on popular shows like "Stranger Things" in time for the next year.
Given the extensive backlog of productions awaiting a restart, actors and soundstages will be in high demand in the near future, potentially causing further bottlenecks in the industry.
Los Angeles Mayor Karen Bass expressed her satisfaction with the "fair agreement" and acknowledged the strikes' impact on millions of people in Los Angeles and throughout the country. She emphasized the need to support local production to ensure the entertainment industry rebounds stronger than before and to aid economic recovery.
To resolve the standoff, both sides made compromises on minimum pay, resulting in an approximate eight percent increase from the previous contract. Though this is lower than the actors' initial demands, it represents a significant raise compared to what the writers obtained and is the largest increase in decades.
Additionally, an improved bonus structure for starring in successful shows or films has been included in the agreement.
Streaming platforms, which typically offer minimal residuals when a show is rewatched, have significantly reduced actors' income. Therefore, the new provisions related to streaming residuals will be welcomed by performers.
Artificial intelligence (AI) emerged as a major sticking point in the negotiations' final stages, as actors expressed concerns about the potential use of AI to clone their voices and appearances. SAG-AFTRA confirmed that the agreement includes "unprecedented provisions for consent and compensation" to protect members from the threat of AI.
Further details about the agreement will be disclosed following a SAG-AFTRA board meeting scheduled to review the terms on Friday, as stated by the union.