Tokyo's Beloved Mascot: Hachiko, the Loyal Dog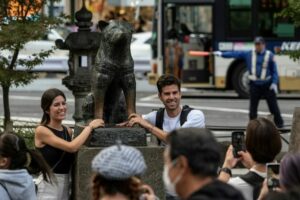 A couple pose for photos next to the statue of 'Hachiko' in front of Tokyo's Shibuya station
A statue of a faithful dog named Hachiko stands proudly outside one of Tokyo's busiest train stations, capturing the hearts of locals and becoming a symbol of loyalty and devotion. Hachiko, whose birth centenary is being celebrated this week, belonged to university professor Hidesaburo Ueno. Every day, the faithful hound would wait patiently at Shibuya station for his beloved master to return home.
Tragically, in 1925, Professor Ueno passed away unexpectedly, leaving Hachiko without his companion. Despite this loss, the devoted dog continued to make his way to the train station, faithfully awaiting Ueno's return. For nearly a decade, Hachiko would come to Shibuya station and wait, even though his master would never come back. Eventually, in March 1935, Hachiko passed away himself.
Hachiko's loyalty and unwavering devotion struck a chord with the locals, much like the tale of "Greyfriars Bobby" from 19th-century Scotland. The people of Tokyo were deeply moved by Hachiko's story and came together, contributing funds to erect a statue in his honor in 1934, just before the dog's own demise.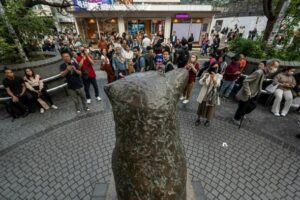 People snap photos of the statue of 'Hachiko', the loyal dog who went to Shibuya station every day for 10 years awaiting the return of his dead master
Although the original statue was melted down for metal during World War II, a new one was installed in 1948. Since then, it has become a popular meeting spot for both locals and tourists, who are eager to have their photos taken with the statue of the Japanese Akita dog. This breed is also celebrated with its own museum in Hachiko's birthplace of Odate.
Visitors from all over the world are captivated by Hachiko's story. Spanish honeymooner Omar Sanchez expressed his admiration, saying he wishes his own dog could be as faithful as Hachiko. American businessman Daniel Callahan recognizes the significance of stories like Hachiko's in today's divided world, believing that anything that brings people together is valuable.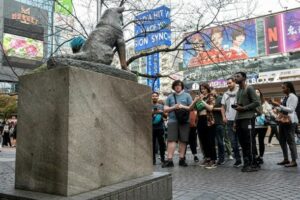 People queue up to pose for photos with the statue of 'Hachiko', whose tale inspired a 2009 movie starring Richard Gere
Hachiko's legend inspired a Hollywood movie in 2009, starring Richard Gere, as well as an Indian film in 2015. The loyal dog's tale has even found its way into a Japanese video game. However, not all residents of Tokyo are familiar with his story. Raisa Abe, a 20-year-old college student, standing near the statue, admitted that it was her first time hearing about Hachiko's story. Nevertheless, she recognizes its significance as a well-known spot in Shibuya and hopes that the statue will continue to remain a cherished symbol of loyalty and unity for years to come.