Bleu Royal Diamond Fetches Nearly $44 Million at Geneva Auction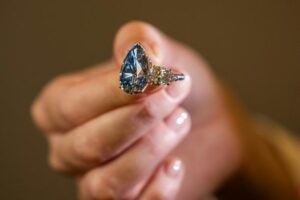 The Bleu Royal sold for nearly $2.5 million per carat
Geneva (AFP) – An exceptionally rare blue diamond was sold for over $40 million at an auction in Geneva on Tuesday, making it one of the most expensive diamonds ever sold, according to Christie's.
The diamond, known as the Bleu Royal, weighs 17.61 carats and is the largest internally flawless fancy vivid blue gem to ever appear for sale at an auction. It took center stage in a series of luxury sales in Geneva this month, which also included items from movie history, such as pearls worn by Audrey Hepburn and Marlon Brando's self-engraved watch.
Christie's Magnificent Jewels auction had estimated that the Bleu Royal would be sold for between $35 million and $50 million. After an intense bidding round lasting seven minutes, an anonymous private collector acquired the diamond for 39.505 million Swiss francs ($43.8 million), including tax and fees.
"We are extremely pleased," said Max Fawcett, Christie's head of jewelry in Geneva. He further stated that the gem sold for nearly $2.5 million per carat, making it the most expensive jewelry lot sold in 2023 across all auction houses worldwide. In terms of historical significance, the diamond is among the top 10 most expensive lots ever sold.
The pear-shaped Bleu Royal, set on a ring, had been in a private collection for decades, and this auction marked its first appearance in the market.
Rahul Kadakia, Christie's international head of jewelry, highlighted the extraordinary color of the gem. Unlike many modern colored diamonds, the Bleu Royal had a classic brilliant faceting style that enhanced its natural richness.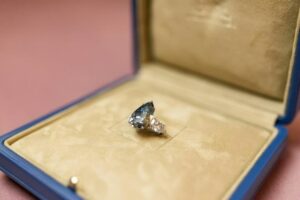 Fancy vivid blue diamonds weighing more than 10 carats are exceptionally rare
The Bleu Royal falls just short of the record-breaking Oppenheimer Blue, which Christie's sold for $57.5 million in 2016. However, it remains one of the most valuable diamonds ever sold.
Fancy vivid blue diamonds weighing over 10 carats are exceptionally rare. Sotheby's, a competing auction house, previously sold the De Beers Cullinan Blue for just over $57 million.
In addition to the auction, Christie's is hosting an online jewelry sale until November 16, featuring the pearl necklace worn by Audrey Hepburn in the 1953 film "Roman Holiday." The necklace, chosen by Hepburn from the selection offered by Austro-Hungarian jeweler Furst, has a starting price of 18,000 Swiss francs ($20,000) and is being sold by a European collector.
Furthermore, Christie's Passion for Time watches sale on Monday featured the timepiece worn by Marlon Brando in the 1979 film "Apocalypse Now." The hand-engraved Rolex GMT-Master, bearing the inscription "M. Brando," sold for just over $5 million.
The watch was gifted by Brando to his adopted daughter Petra in 1995 and was later auctioned in 2019 for $1.95 million.
Sotheby's will also host its own Magnificent Jewels sale in Geneva on Wednesday, featuring stunning gems and an important collection of imperial and royal jewels.